Welcome to the GenWebsite for Mecklenburg Vorpommern, Germany
This site contains genealogy information about Mecklenburg Schwerin, Mecklenburg Strelitz, and Vorpommern .
Important Remark This GenWebsite for Mecklenburg Vorpommern was created by Carol Gohsman Bowen. She allowed to publish her website at this address, but she will not maintain these pages any longer. First of all I wan't to thank Carol for her great work. Her pages are a really great help for all English speaking hobby genealogist. I want to ask you for your help, to keep these pages up-to-date. Please send me dead links, missing or obsolete information or any additions to these pages. Send your message to info@eMecklenburg.de
Next: to have still more information below this address the former Mecklenburg Pages by Garling were merged into this GenWebsite for Mecklenburg Vorpommern. Enjoy :-)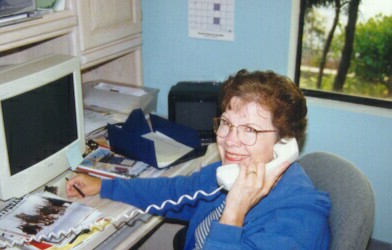 Hello! My name is Carol Gohsman (Goosmann) Bowen. I am the originator for the Mecklenburg-Vorpommern, Germany, Web pages. I am an American of German descent, living in California, USA. I can not do research for you. I am a volunteer and my time will best be spent in managing this site.
If you search this page carefully, looking at all of the links, you will find information to cover most of the questions you have. I particularly ask you to look at the "Mecklenburg Pages by Garling" section, the "Genealogical Association" section, and the "Help With Research" section for answers to your questions. All of the sections contain a great deal of information for both beginners and veterans in Mecklenburg genealogy.
What area do these pages cover? These pages cover Mecklenburg Schwerin, Mecklenburg Strelitz, the state of Mecklenburg, and Mecklenburg-Vorpommern, Germany. This includes the portions of the former Pomerania that are west of the Oder River and were and are known as Vorpommern.
---
Where is Mecklenburg Vorpommern? Mecklenburg-West Pomerania is a state in northeastern Germany, bounded on the north by the Baltic Sea, on the west by Schleswig Holstein, on the southwest by Lower Saxony, on the south by Brandenburg, and on the east by Poland. Teutonic peoples inhabited the area in the first centuries of the Christian era, but early in the 6th century it was seized by various Slavic tribes.

The Mecklenburg region was conquered by Henry the Lion in the latter half of the 12th century. In 1348 it was elevated to a duchy. The duchy was subdivided in 1621 into the duchies of Mecklenburg Schwerin and Mecklenburg Strelitz, both of which were elevated to grand duchies in 1815. They joined the German Empire in 1871 and, after World War I, were made states of the new German Republic. In 1934 they were united into the single state of Mecklenburg. After World War II, Mecklenburg became part of the Soviet Zone.

Pomerania was that land in northeast Germany along the Baltic Sea from Mecklenburg on the west to almost Danzig (now Gdansk, Poland) on the east. Pomerania was partitioned into two areas separated by the Oder River. In 1181 it became a duchy of the German Empire, then in 1637 it became part of the Prussian Empire, although the western part (Vorpommern) was under the control of Sweden until 1815. Following World War II, the area east of the Oder River was given to Poland, while the area west of the Oder River was included in the new state of Mecklenburg, East Germany.

The state of Mecklenburg was dissolved in 1952, when East Germany was reorganized into districts. In 1990, with Germany's unification, the State of Mecklenburg West Pomerania (Mecklenburg Vorpommern) was created.

("Mecklenburg-West Pomerania,"Microsoft Encarta. Copyright (c) 1993 Microsoft Corporation. Copyright (c) 1993 Funk & Wagnall's Corporation.)
---
The Mecklenburg Surnames/Queries page is where you can submit your surnames and research queries for the areas of Mecklenburg- Schwerin, Mecklenburg Strelitz, or Vorpommern. To help those of you with ancestors from Hinterpommern, that part of Pomerania which was east of the Oder River and is now in Poland, please go to Regions of Poland or you can try Genealogy and Poland. For queries for any other area of Germany, please go to the Germany Queries Page.
Check Out These Pages As of January, 2001, there is a new contact database for Pommern. Be sure to go to Pommernkontakte and enter your surnames.
Dear Friend, every Saturday you can talk with friends of Pomerania in our new Pomeranian Live - Chatroom. Our Chat Rooms now have Instant Language Translation in 6 languages: English, French, German, Italian, Portuguese and Spanish. Choose what language you would like to type in and what language you would like to receive your messages in, and you can instantly communicate with people who speak a different language. Pomeranian Live Chat http://donicht.de ( 3:00 PM New York time ) Chattime every saturday Live Chatroom with Instant Translationsoftware.
I have found a site on the internet that lists 30 Gutshauses or Schlosses in Mecklenburg Vorpommern that are currently for sale. There is a map that shows their locations. The site also has wonderful pictures and information about the buildings. These may be your ancestors' manors or the manors of the noblemen your ancestors worked for. The castle at Bülow, where my ancestors worked, is one of them.

I have posted a link to the German phonebook. Simply enter your surname and you will get all of the people in Germany who have that surname. Then you can choose which ones you wish to contact. As an alternative, enter the town, area, or zipcode to get a more exact match to the area of your ancestors.
Memorial stone at castle
Mecklenburg
Windmill in the village
Mecklenburg
Genealogy in Mecklenburg This web site covers furthermore the history of Mecklenburg / Schwerin, several aspects of emigration, pictures from the old Mecklenburg. Here is a Research Help (not only) for beginners. Furthermore you will find a small FAQ for Mecklenburg.
Further interesting articles report about the Coat of Arms of Mecklenburg (included the Mecklenburg history in 25 facts and short explanations about currency, post stamps, and rural professions in Mecklenburg) and the beautiful landscape (pictures).
In 1997 an association was founded: "Verein für mecklenburgische Familien- und Personengeschichte e. V." . One of the aims is to support geneological research in the Mecklenburg area. The home page is www.MFPeV.de

If you are interested in the Genealogy of the Mecklenburg Duchies / Grand Duchies you should have a look at www.eMecklenburg.de -> Genealogie -> Niklot.

If you are visiting Mecklenburg, I recommend to visit (of course together with the home town / village of your ancestors :-) have a look at this excellent travel report) (3 top tips):



Emigration There are 3 kinds of sources for tracing the way of emigrants to America. Firstly they should ask their government for permission to emigrate. In Mecklenburg - Schwerin the emigration lists are stored in the archives in Schwerin. Next there should be an information in the emigration ports (embarkation lists). Have a look at an article from Raymond S. Wright. The third registration is done at the immigration port (arrival lists) in America. Read this short mail for first assistance. Further articles:

Famous People (a painting by Suhrlandt, poet and writer John Brinkmann, Johannes Gillhoff)
Three men, a Russian called Iwanow, an American called Jackson and a man from Mecklenburg called Garling, are sitting in a restaurant and talking about their ancestors. The Russian: "In one of the archives in Petersburg I found documents that prove that my ancestors had already settled in that area in the 14th century." To which the American replies: "That's nothing. a while ago an archeologist excavated a totem pole in nebraska on which there were carved in signs from my ancestors from 900 ad." Mr. Garling from Mecklenburg just shakes his head and says: "Do you guys both know your bible?" The other two nodded. Mr. Garling: "Well, then you know Adam and Eve, too?" Again the two men nodded. "You see, and Eve's maiden name was Garling!" (Adopted from the Usenet)